Falashay Pearson Residency
Engaging students through performance poetry.
Over the course of a week, 2017 Suzie Bass award nominee Falashay Pearson provides performance intensives to three groups of Central Florida students, introducing them to the intricacies of performance, drawing from acting, movement, and spoken word and performance poetry.
Falashay works with students from an underserved middle school, high school and students from community-based organization Page 15, as she teaches her method for creating and delivering content to public audiences. Students create and practice various delivery methods, and selections from the three groups of students are be shared with the public during student showcases—which feature a 60 minute performance by Falashay Pearson.
---
About the Artist
Falashay Pearson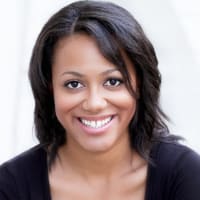 Falashay Pearson has been seen on stages from New York City to Chicago to Atlanta. Some of her favorite roles have been A Twist of Water, which had a wonderful six-month Chicago run followed by an Off-Broadway run at 59 E 59th Street Theatre. Regionally, she had been in The Crucible as Mary Warren—a role that garnered a Suzy Bass Award nomination—The Legend of Georgia McBride, Marcus; Or the Secret of Sweet, Rent and Veils. She has had the privilege of being part of three world-premier plays and one regional premier. In college, Falashay had the joy of writing a one-woman show that centered on her open heart surgery experience the summer before her college graduation. It was here that she found a love original work, new plays and collaborative art. Falashay currently resides in Atlanta, GA.
---
Our Supporters
This residency is funded in part by a grant from South Arts in partnership with the National Endowment for the Arts and by the State of Florida, Department of State, Division of Cultural Affairs and the Florida Council on Arts and Culture.