Food & Drinks at Frontyard Festival™
Presented by AdventHealth
Grab delicious lunch, dinner or light bites from some of your favorite local restaurants—on-site at our Frontyard Festival™. You can check out sample menus below.
Dinner: Use the QR code in your box to find menus and order online. Then we'll deliver your food and drinks directly to you. You can also walk up to the restaurant for ordering and pickup. Feel free to come early to enjoy dinner before your show—or you can always order during it.
Lunch (during our Live & Local Lunch Series): Just walk up to the restaurant—and practice social distancing of 6+ feet—for ordering and pickup.
For safety reasons:
This venue is totally cashless, so use a credit card (MasterCard, Visa, American Express or Discover) or Apple, Google or Samsung Pay.
Unless actively eating or drinking, guests are required to wear masks at all times.
All food & beverage colleagues are required to wear masks and gloves.
RESTAURANTS & SAMPLE MENUS
These menus may differ from the actual food offerings on any given night, but they are a good representation of the types of food and pricing guests can expect.
All pricing is plus 12% taxable handling fee and sales tax
Dharma Fine Vittles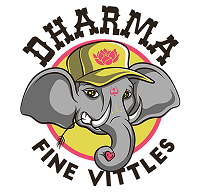 Two Orange Bird Sliders, house bbq , charred onions, soy protein, garlic confit, slaw (can be served as a lettuce wrap), $8
Two Carolina Jackfruit BBQ Sliders , house mustard based bbq, crispy onion, preserved lemon, arugula, garlic pickles (can be served as a lettuce wrap), $8
Two Fried Green Tomato Stacks, tomato jam, frisee, smoked gouda pimento nut cheese, $13
Side Platter, vegan macaroni & cheese, vegan tater salad, brown sugar molasses baked beans, $10
Eola General
Cheese Boards – various artisan cheeses, local honey, almonds, pickles Local veg, jams, local baguette, $20 (serves 4)
Charcuterie Boards – various aged and cured meats, local honey, pickled local veg, jams, local baguette, $20 (serves 4)
Nashville Hot Deviled Eggs – dill, cayenne, crispy chicken skin, 3 for $10
Curate Natural Wines (pricing varies based on wine)
Juniper Patisserie
Dark chocolate, coffee, and toasted hazelnut cheesecake, orange geleè, cardamom crust, topped with a whipped cremè fraichè, $8.50
Egg Nog pot de cremè, layered with a cranberry ginger jam, garnished with a white chocolate "snow", and ginger molasses cookies, $9
S'mores charcuterie board, marshmallows, milk chocolate truffles, soft caramel candy, coconut Graham cracker, and chocolate "salami", $15.00
Vegan Swiss Cake Rolls, Chocolate and peppermint "Debbies", candy cane bark $8
Vegan champagne and strawberry cake, vanilla cake filled with a champagne custard, strawberry and rose jam, topped with champagne buttercream, and pink peppercorn meringues, $8
Oak Flame Pizza
Margherita, Pomodoro Gravy, Mozzarella Dollop, Basil, EVOO, $13
Ezzo Pepperoni, Pomodoro Gravy, Mozzarella, Basil, $13
Vegan Velocity, Beyond Italian Sausage, broccolini, vegan ricotta, chili oil, $15
Sea Legs
Fish n' chips board, beer battered local catch, house made potato chips, house pickles, lemon, $14
Fresh Catch Crudo (ceviche), marinated local catch, pickled fresno, fresh herb, $13
Local Smoked Fish Dip, pickled hot peppers, local greens, radish, local baguette, $8.50
Cracked King Crab cocktail, lemon pepper emulsion, pickled pepper, $28
Pickled Local Shrimp, bloody mary cocktail sauce, lemon, pickled peppers, $16
The Taproom at Dubsdread
Tomato Basil Soup, creamy tomato soup infused with basil and topped with herbed croutons, $6
Blue Cheese Chips, home-style chips topped with blue cheese fondue and balsamic reduction, $7
Tillamook Cheeseburger, 6oz Certified Angus Beef patty, cheddar cheese, $12
Chilled Lobster & Shrimp Roll, chilled lobster and shrimp tossed in a light aioli, $14
Chicken Caprese Salad, fresh mozzarella, tomato, basil and balsamic reduction, $12
Toasted
Gourmet Grilled Cheeses, made with locally-sourced artisan bread. Rotating varieties, $8-$10
Specialty Mac & Cheese, housemade loaded mac & cheese made with sharp cheddar, mozzarella and Asiago. Rotating varieties. $5 each or 3/$12
Drinks
BEER
Domestic Beers
Budweiser
Bud Light
Michelob Ultra

Import & Specialty Beer
Stella Artois
Shock Top
Goose Head Island IPA
Ask About Our Selection of Local Craft Beers

Bud Light Seltzers
Lemon Lime
Black Cherry
Mango


WINE
Canyon Road House Wine - by the glass or bottle
Cabernet Sauvignon
Pinot Noir
Chardonnay
Pinot Grigio
White Zin


COCKTAILS
Tito's Vodka
Jack Daniels Whiskey
Dewars White Label Scotch
Cruzan Silver Rum
Capt Morgan Spiced Rum
El Jimador Tequila
Beefeater Gin
Kahlua Coffee Liqueur
Bailey's Irish Cream


PEPSI PRODUCTS
Pepsi
Diet Pepsi
Sierra Mist
Mt. Dew
Dr Pepper
Aquafina