Phase 2: Steinmetz Hall & the Green Room
It's so close you can almost hear it.
Steinmetz Hall and The Green Room will debut in 2021, joining Walt Disney Theater and Alexis & Jim Pugh Theater to fulfill the original vision of the arts center. These spaces complete the 698,312-square-foot facility in the heart of downtown Orlando, which will become a destination of choice for the world's most revered and relevant artists.
FAST FACTS ABOUT DR. PHILLIPS CENTER
2-block, 9-acre destination in downtown Orlando
Campus footprint: 335,283 square feet
Total square footage of building (all levels, phase 1 and 2): 698,312 square feet
Phase 1 groundbreaking: June 2011
Phase 1 grand opening: November 2014
Phase 2 groundbreaking: March 2017
Phase 2 grand opening: 2021
Total project cost: $612 million
Full-time and part-time colleagues: approximately 200
Volunteers: approximately 300


steinmetz hall facts
sound
Steinmetz Hall will be one of the world's most acoustically perfect halls, designed to achieve an N1 sound rating—the lowest level at which humans can detect sound.
The entire theater is encased inside an exterior concrete frame. Between the theater and the frame are 437 18-inch steel and rubber isolation pads that act as shock absorbers to deaden sound from traffic and passing trains, and other ambient noise.
shape
The hall is a multiform theater that will transform in shape, seating and acoustics to accommodate a variety of art forms and events.
Different configurations are achieved by moving the 210-ton shell from upstage to downstage (front to back) along heavy-duty, steel train tracks, the space transforms into a perfect acoustical concert hall.
Along with the shell, two 53-foot-high stage towers add to the hall's flexibility. The towers rest on air casters, transforming them into hovercraft that can manually move from place to place.
Ideal for orchestral concerts, staged opera, recitals, dance, popular recording artists and speakers.
seating
There are 4 main levels of seating, including the orchestra (level 1), grand tier (level 2), center tier (level 3) and upper tier (level 4). There are also seats along the perimeter of the shell, which can be configured to present performances in the round. At its maximum, the theater will seat approximately 1,650 people.
Both orchestra and upper-level seats are close to the stage and arranged on moderate inclines to provide an even more intimate viewing experience.
accessibility
There are 28 wheelchair and companion seat positions in the theater.
All public restrooms on all tiers are wheelchair accessible.
Elevators access all levels of the theater and wheelchair lifts reach select tiers.
Complimentary Assistive Listening Devices (ALD) are available for most shows.*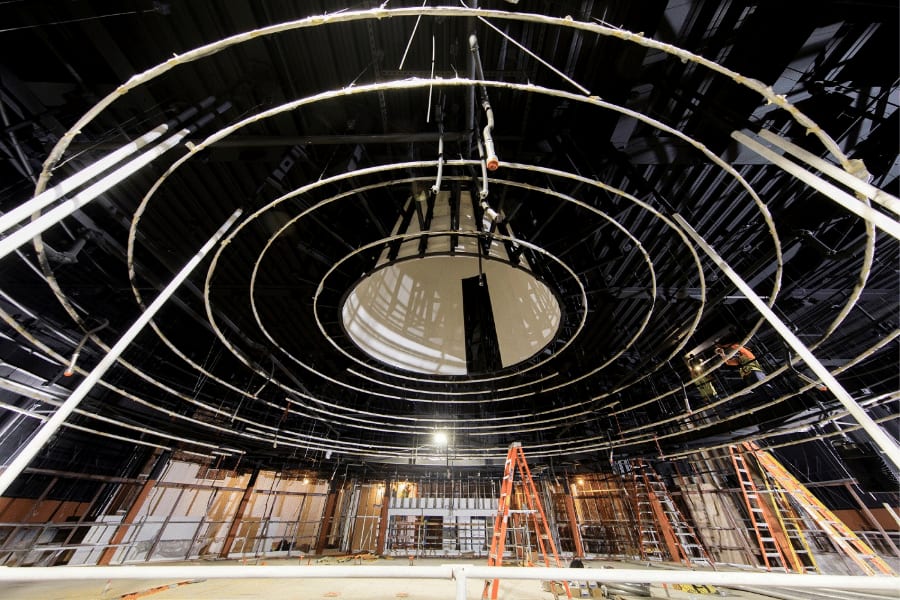 Green Room Facts
the green room design features
This 3,000-square-foot, multi-purpose space was inspired by the performance space at Jazz at Lincoln Center in midtown Manhattan.
It's designed to give artists a place for musical exploration and innovation.
A signature design feature is a soaring, 27' wall of floor-to-ceiling windows.
It's equipped with leading-edge digital recording equipment and built-in video mounts to enable artists to professionally record tracks in front of live audiences.
A full commercial kitchen just steps away will make the Green Room a popular space for corporate and family events.
---
ADVENTHEALTH FENCE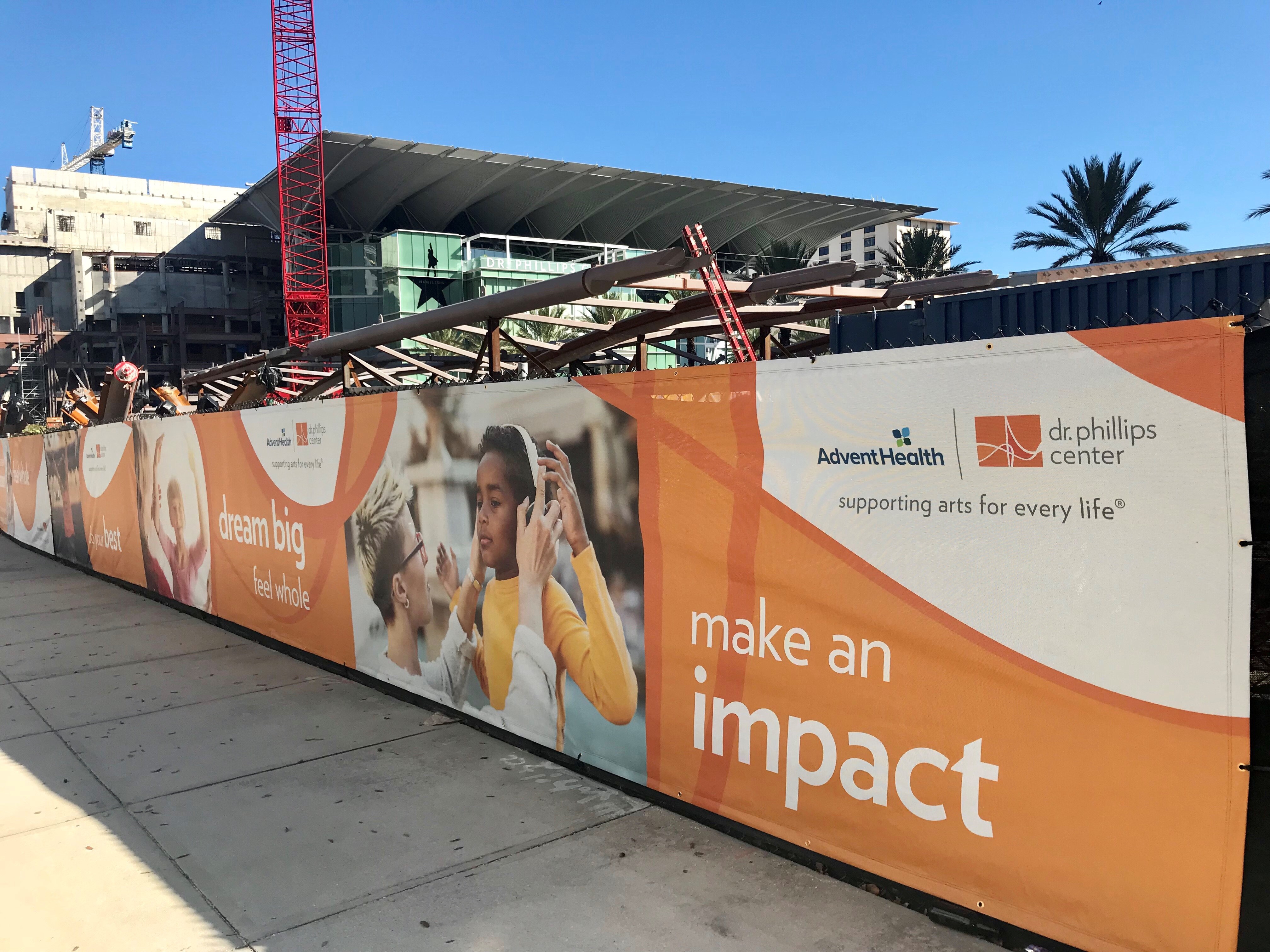 AdventHealth's branding surrounds our phase 2 construction site as part of our partnership and their ongoing commitment to uniting wellness and the arts—especially through our AdventHealth School of the Arts at Dr. Phillips Center.

Learn more about our education programs.
Impact Central Florida's culture, economy and community for generations to come by helping us complete phase 2.
GIVE NOW
Design architect:
Barton Myers Associates, Inc.
Executive architect:
HKS Architects, Inc.
General contractor:
Whiting Turner
Owners' representative:
The Projects Group
Structural/mechanical/electrical engineer:
TLC Engineering Solutions
Arup Los Angeles

Theater planners:
Theater Projects Consultants, Inc.
Acoustician:
Stage Consultants
Lighting design:
Ann Kale Associates