Phase 2: Steinmetz Hall & the Green Room
It's so close you can almost hear it.
Fulfilling the original dream of Dr. Phillips Center for the Performing Arts, Steinmetz Hall and the Green Room will allow guests to enjoy a range of "unplugged" local, national and international artists in all-new, one-of-a-kind performance spaces.
These spaces complete the 698,312-square-foot facility in the heart of downtown Orlando. The entire project includes: three theaters, intimate performance space, grand lobby and other public lobbies, rehearsal rooms, classrooms, event space, administrative offices, a rooftop terrace, a public plaza, and production and support. Dr. Phillips Center also manages Bob Carr Theater.
---
steinmetz hall facts
the green room design features
This 3,000-square-foot, multi-purpose space was inspired by the performance space at Jazz at Lincoln Center in midtown Manhattan.
It's designed to give artists a place for musical exploration and innovation.
A signature design feature is a soaring, 27-foot wall of floor-to-ceiling windows.
It's equipped with leading-edge digital recording equipment and built-in video mounts to enable artists to professionally record tracks in front of live audiences.
A full commercial kitchen just steps away will make the Green Room a popular space for corporate and family events.
phase 2 construction facts
From start to finish, completing phase 2 will require in excess of 1.2 million hours of labor.
With the acoustical demands of the theater, the project required underground foundational work 36 feet below street level, which took almost a year to complete.
The entire project will utilize approximately 110,751,300 pounds of concrete and 1,666,500 pounds—or 833.25 tons—of structural steel.
The foundation alone is 7 feet thick and made of more than 23 million pounds of concrete, 3.5 million pounds of reinforcing steel and 1 million feet of steel rebar that, if laid end to end, would stretch 188 miles.
Built into the foundation are 670 concrete and rebar pilings that support the theater.
sound
Steinmetz Hall will be one of the world's most acoustically perfect spaces, named after philanthropists Chuck and Margery Pabst Steinmetz, is designed to achieve an N1 sound rating—the lowest level at which humans can detect sound.
The entire theater is encased inside an exterior concrete frame. Between the theater and the frame are 437 18-inch steel and rubber isolation pads that act as shock absorbers to deaden sound from traffic and passing trains, and other ambient noise.
Once the hall is completed, it will be acoustically tuned for approximately six weeks.
The tuning will include precise adjustments to 70 mechanized fabric panels concealed within the ceiling, and six large acoustical curtains located throughout the hall that direct and filter sound. They will be adjusted to create optimal acoustics for different types of performances and room configurations. Specific formulas will be created to help guide the production team as they get the hall ready for performances.
shape
The hall is a multiform theater that will transform in shape, seating and acoustics to accommodate a variety of art forms and events.
Different configurations are achieved through a 62-foot-high, 27-foot-deep shell with movable floor, walls and seating. By moving the 210-ton shell from upstage to downstage (front to back) along heavy-duty, steel train tracks, the space transforms into a perfect acoustical concert hall.
Along with the shell, two 53-foot-high stage towers add to the hall's flexibility. When in use, they can be placed at either side of the shell or used to augment the proscenium, which is the permanent structure that frames the stage.
The towers rest on air casters, transforming them into hovercraft that can manually move from place to place.
The hall is ideally suited for orchestral concerts, staged opera, recitals, dance, popular recording artists and speakers.
seating
There are 4 main levels of seating, including the orchestra and 3 additional tiers. There are also seats along the perimeter of the shell, which can be configured to present performances in the round. At its maximum, the theater will seat approximately 1,700 people.
When not in use, 22 rows of seats in the lower orchestra pivot forward 180 degrees and are stored upside down under the theater, creating a flat floor for dancing or catered events.
The first 5 rows closest to the stage also have 3 distinct height options, making it easy to create an orchestra pit or add a forestage, as needed.
Both orchestra and upper-level seats are close to the stage and arranged on moderate inclines to provide an even more intimate viewing experience.
The seat structures and theater millwork are natural-stained cherry wood, seat bottoms are tamarind (deep brown) faux leather and seat backs are a rich copper hue.
floor plan specs
proscenium | 1,600 seats
In this format, the shell and towers are not used.
The stage box has a maximum opening of 50' wide by 44' tall. Performers will be able to move in a performance area that is approximately 67' wide and 50' deep, with 20' of wing space on either side. Additionally, there is a side stage approximately 50' by 45' that can be used for varying performance-related needs.
100-line sets for set pieces, lighting and other rigging hangs 110' above the stage floor.
The stage floor is sprung and is monolithic between two large railroad tracks that carry the concert enclosure. This provides a ballet space which is 67' x 50'.
concert | 1,600-1,700 seats
Through an elaborate system, the full orchestra setup includes a unit shell that slides into place to form an in-the-round concert hall for approximately 100 musicians, several soloists and a conductor.
First five rows of seats fold away and the lift becomes a stage extension.
A set of custom orchestra platforms are arranged in front of the enclosure's rear wall.
The fixed ceiling contains concert lighting and the ability to drop screens to accommodate multimedia productions.
To reach concert mode, seats are stored under the stage floor to allow the stage to extend in length.
A smaller recital hall can be created as well by removing two of the seating towers, providing an intimate performance venue for solo artists.
The rear wall of the orchestra can be utilized for guests, but can also house 130 choir members for select performances.
accessibility
There are 28 wheelchair and companion seat positions in the theater.
All public restrooms on all tiers are wheelchair accessible.
Elevators access all levels of the theater and wheelchair lifts reach select tiers.
Complimentary Assistive Listening Devices (ALD) are available for most shows.
---
ADVENTHEALTH FENCE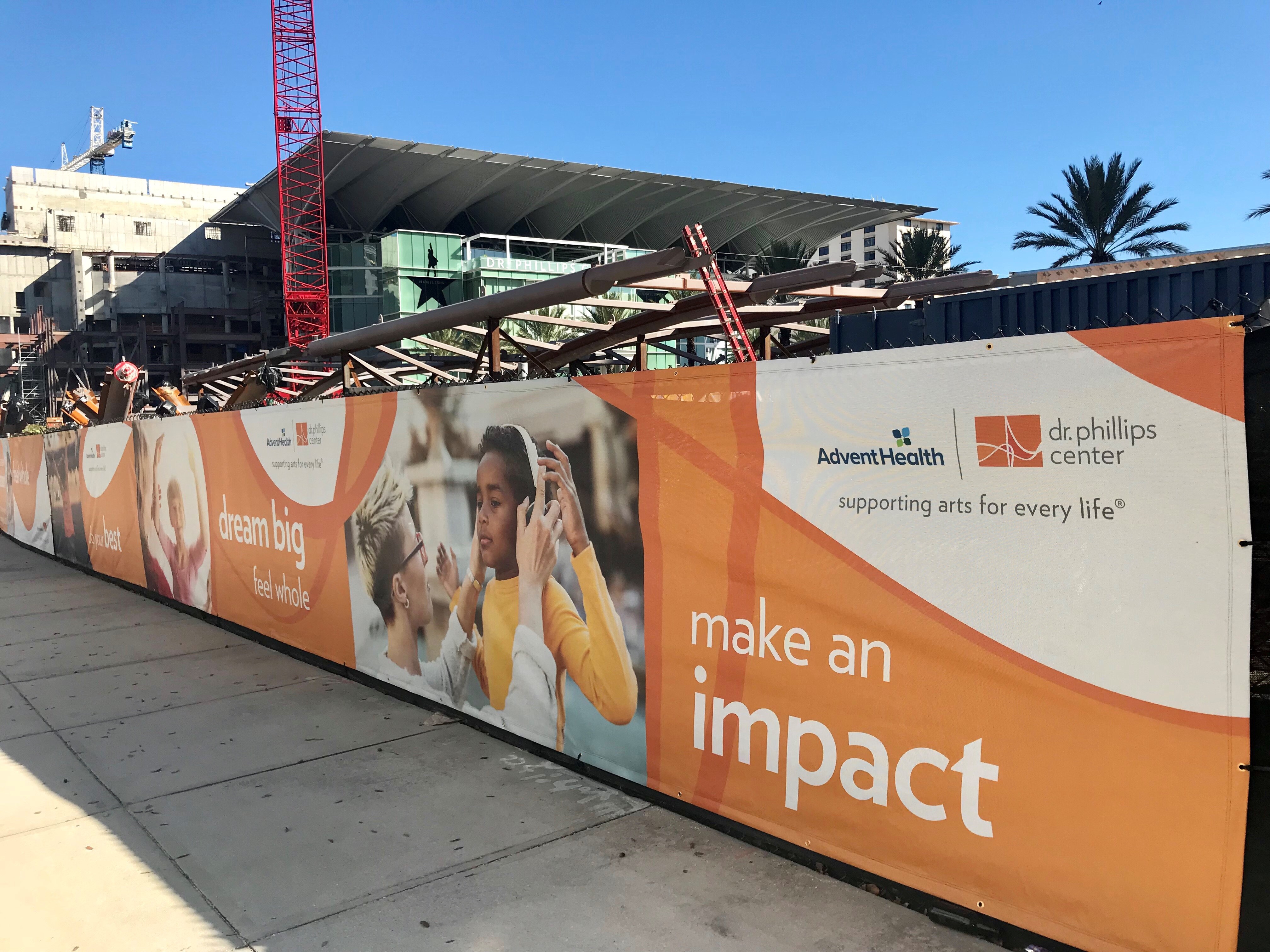 AdventHealth's branding surrounds our phase 2 construction site as part of our partnership and their ongoing commitment to uniting wellness and the arts—especially through our AdventHealth School of the Arts at Dr. Phillips Center.

Learn more about our education programs.
Impact Central Florida's culture, economy and community for generations to come by helping us complete phase 2.
GIVE NOW
Fast Facts About the Campus
2-block, 9-acre destination in downtown Orlando
Phase 1 groundbreaking: June 2011
Phase 1 grand opening: November 2014
Phase 2 (Steinmetz Hall and the Green Room) groundbreaking: March 2017
Phase 2 grand opening: 2020
Total project cost: $604 million
Full-time and part-time colleagues: approximately 200
Volunteers: approximately 300
Design architect:
Barton Myers Associates, Inc.
Executive architect:
HKS Architects, Inc.
General contractor:
Whiting Turner
Owners' representative:
The Projects Group
Structural/mechanical/electrical engineer:
TLC Engineering for Architecture
Theater planners:
Theater Projects Consultants, Inc.
Acoustician:
Stage Consultants