When the Dr. Phillips Center for the Performing Arts was just a dream, part of that dream was to be more than a performing arts center. It was to be a gathering place for people to come together, to engage with each other and to just be.
The many people involved in bringing that dream to reality could never have imagined the events we experienced this week and we are grateful that their vision included the Seneff Arts Plaza. We're so glad that our community has used the arts plaza as a place to gather. You've come to comfort each other, to be comforted, to reflect, to talk, to pray and to share hope. We've all been touched by the people and groups bringing water, sunscreen, snacks, flowers, grief counseling, a couch and comfort dogs.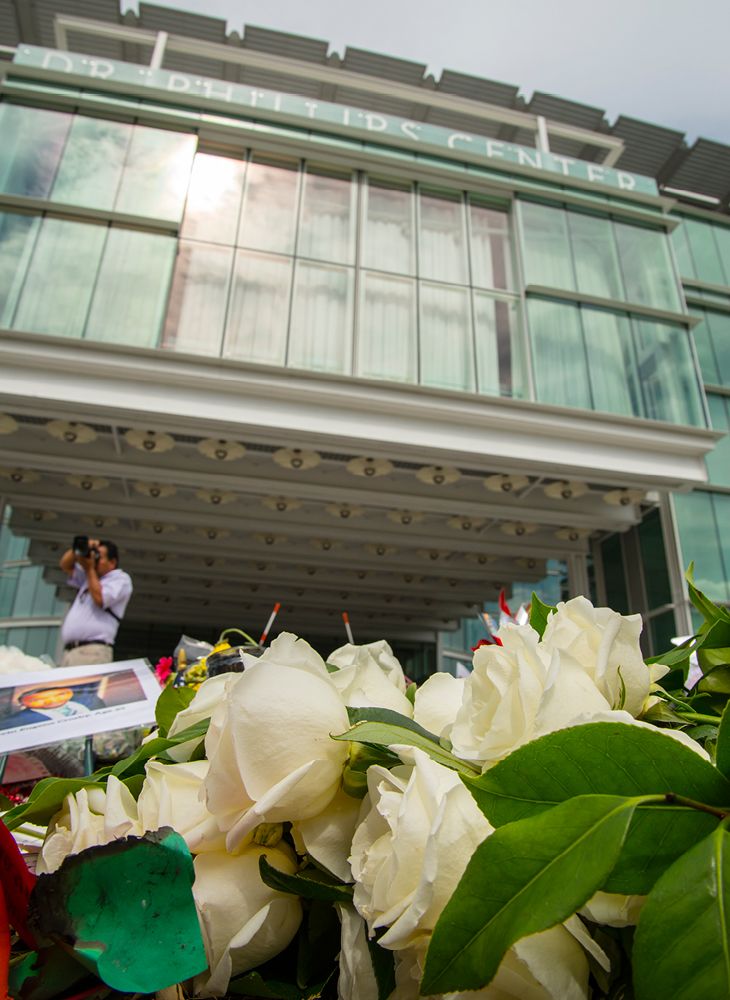 Resources For Our Community There are other needs that the people in our community have and we want to make everyone aware of those resources. First, is the OneOrlando Fund. The purpose of the Fund is to provide a way to help respond to the needs of our community, now and in the time to come, after the effects of the Pulse nightclub tragedy. For anyone who wants to give or is in need of support, visit OneOrlando.org.
Central Florida Artists want to help. For anyone who is in need of musicians or singers for memorial services CFCArts is serving as a clearing-house and will connect you with artists who are ready to serve. Visit CFcommunityarts.com or email info@cfcommunityarts.com.
AC2 with Anderson Cooper & Andy Cohen In light of the horrific attack at the Pulse Nightclub in Orlando, Anderson Cooper and Andy Cohen are pleased to announce a special live benefit AC2 show at the Dr. Phillips Center for the Performing Arts. All proceeds raised will benefit the OneOrlando Fund. Cohen, Cooper and the Dr. Phillips Center have joined together to donate services to produce the one-night-only benefit.
Tickets will go on sale at 10 a.m, Tuesday, June 21, 2016. Tickets start at $55 and may be purchased online at drphillipscenter.org, by calling 844.513.2014 or by visiting the Dr. Phillips Center Box Office.
Take It From The Top Podcast During this unbelievable week Broadway pros were at our School of the Arts working with students in Take It From The Top Broadway camp. We got the chance to talk with them about their experience being in Orlando and putting on a show with 100 kids in 5 days. Listen to Arts For Every Life here.
Our vision is Arts For Every Life. The pain and the hope that we are experiencing together impacts every life in our city, community and around the world. Our city is changed forever. Our citizens are changed forever. Our community is changed forever. We are Orlando United and we are seeing it every day.