Last year we struck up a unique partnership between OCA (Opportunity, Community, Ability) and our Dr. Phillips Center Florida Hospital School of the Arts.
Last year we struck up a unique partnership between OCA (Opportunity, Community, Ability) and our Dr. Phillips Center Florida Hospital School of the Arts. OCA serves individuals with special needs from pre-school to adult in a variety of programs. The organization started with a focus on sports, specifically Special Olympics, and each year has added programs that broaden its ability to serve its participants. Now OCA has an afterschool program, an adult vocational program and pre-school early intervention. Summer camps are the hit of the year for participants, especially Theater Week.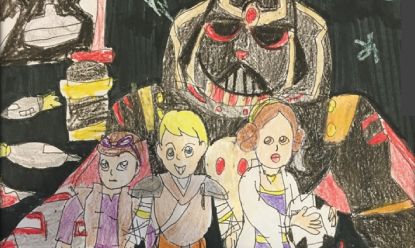 During this special week, area theater students led by Rachel Haas, niece of OCA's executive director Silvia Haas, mentored campers in all areas of theater production. The Theater Week camper rehearsed the show, made costumes and set pieces and, on the last day of camp, performed this one-of-a-kind show. The play was conceived by OCA camper, Ivan Negron. His plays always involve an iconic movie set in an OCA sports setting. For instance they've put on OCAerella (Cinderella at OCA) and Peter Pan in OCAland… you get the idea. Then Rachel Haas got accepted to NYU! Great news for her but not so great for Theater Week. It looked like it would be canceled.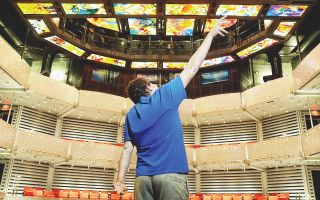 Enter, Henry Bass – the child of Alice Ramadan, who works at Dr. Phillips Center. Alice told Dana Brazil, director of education, about the camp. The wheels started turning and Dana was off – meeting with Silvia to set up the logistics, bringing Ivan in to talk concepts, meeting with the OCA students to get ideas for casting and staging. Dana and her team spent a full week out of the office at OCA Theater Week camp, leading rehearsals and creating sets. And last year we debuted The Wizard of OCA featuring about 200 campers of all ages with autism. It was truly one of the most inspirational days in the life of the arts center.
Now, we're at it again. This week, Dana and her team of staff and teen ambassadors are out at Theater Week camp. Ivan has created drawing after drawing (many of which will be displayed in the lobby pre-show) and Alice has worked with him to craft a script for his vision of Sports Wars, an OCA version of Star Wars. On Friday, August 5 at 2 p.m. all the parents, campers and as many of our staff as can fit, will be inspired and amazed at the commitment and artistry of this year's Theater Week.
Henry has been making quite a name for himself as well. He's been featured on Real Radio 104.1 Monsters in the Morning radio show every Wednesday talking about the camp, Fall classes at the School of the Arts (sign up now!) and the class he takes, Sensory Friendly Acting Class. He's learning how to be a talk show host from the Monsters and sharing his excitement for all things Dr. Phillips Center. In fact, the arts center has had Henry host two other events in the last year, outside of theater camp, and he now considers himself the Host of Dr. Phillips Center. To share a little of Henry's story and more about our partnership with OCA, Henry and his mom were interviewed on our podcast.
This partnership is constantly expanding. Dana's experience with the campers was so fulfilling for everyone involved that she started an OCA Theater Club during the year. In the spring the club put on their version of Shakespeare's A Midsummer Night's Dream. This Saturday, August 6 at 5 p.m. Theater Club will present Mind of Theory, a two-person play about a young man with Asperger's Syndrome. Dana directs the show featuring Amelia Bryant, one of Dr. Phillips Center's Teen Ambassadors and Josue Hernandez, one of OCA's students. It's an incredible opportunity for both Josue and Amelia to work together as actors and to share Josue's experience of living with Asperger's. The show is free to the public and you can find out more by emailing OCA director Silvia Haas at shaas@gooca.org.