Food & Beverage at Dr. Phillips Center
Pop by the bars on tiers 1, 3 or 4 for a range of edibles and sip-ables—including new culinary offerings created by our in-house chef. Bar service starts 1.5 hours before shows in Walt Disney Theater, or an hour before shows in Alexis & Jim Pugh Theater.
On tier 2, you can visit Crafts on 2 before most shows and enjoy local craft beer, wine, cocktails and coffee. Those menus vary, but look below to see what's usually offered.
---
NEW: LIGHT BITES
Cheese & charcuterie board
Thai wrap
Hummus with pita chips


SNACKS
Trail mix
Sunflower seeds, almonds, pumpkin seeds, cashews, redskin peanuts, raisins
Frontier mix
Cranberries, cashews, natural date pieces, raisins, almonds, pumpkin seeds
Dark chocolate trail mix
Dark chocolate raisins, dark chocolate cranberries, dark chocolate espresso beans, almonds, cranberries
Gummi bears
Wild cherry, pink grapefruit, watermelon, strawberry, orange, blue raspberry, lime, grape, green apple, mango, pineapple, lemon
Cookies
Chocolate chip, sugar or oatmeal raisin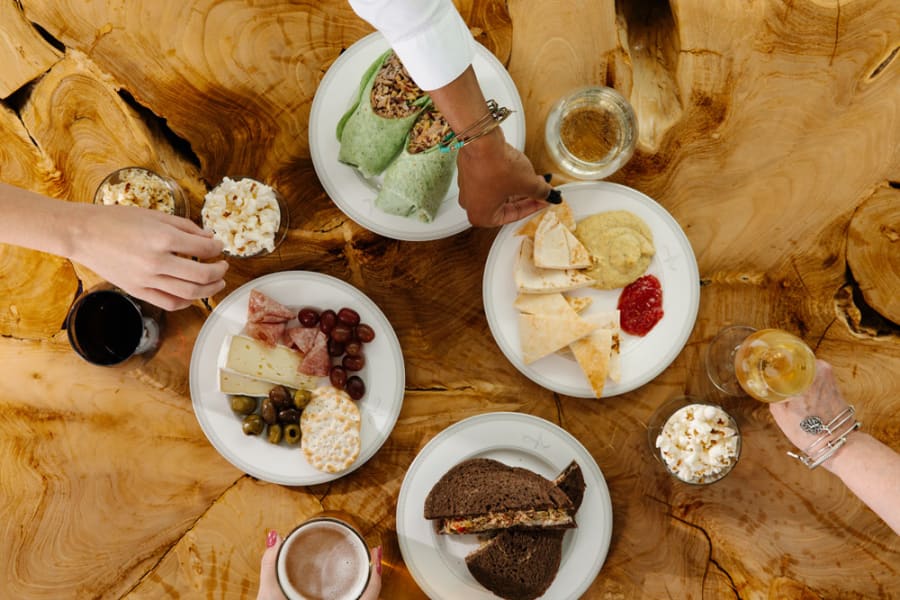 BEVERAGES
ESPRESSO
Foxtail Farmhouse Blend Single Origin
Doppio (Double)
Americano
Macchiato
Cappuccino
Latte (hot or iced)


COFFEE
Fresh-brewed coffee
Served regular or decaf
Irish coffee


SPECIALTY DRINKS
Matcha
Hot chocolate
Chai tea latte


COFFEE FLAVORS
Mocha
White mocha
Caramel
Hazelnut
Vanilla
Peppermint


COLD BEVERAGES
Pepsi
Diet Pepsi
Dr. Pepper
Sierra Mist
Mountain Dew

BEER
Bud Light
Stella Artois
Blue Moon


WINE
Canyon Road Cabernet
Canyon Road Chardonnay
Canyon Road Pinot Grigio
Canyon Road Pinot Noir
Monday White Zin
Anna Codorniu (Sparkling Wine)


PASTRIES
Fresh from Le Gourmet Break
Macarons
Butter croissants
Chocolate croissants